About the Book
Halfway through their year-long cross-country road trip, Ben, Charlie, and Olivia have crossed paths with a pair of mysterious strangers: Robbie, who has had disturbing visions of something looming on the horizon, and Danny, a young man desperate to finish his unfinished business.

Now, the five have to end what the twins — and their peculiar Uncle Harry — started. As the road unfurls before them, they'll face monsters at Laundromats, ghostly loops, the (possible) reincarnation of Theodore Roosevelt, family secrets, an ominous man known only as October, the Winchester Mystery House, hungry shadows — and the demands of their own hearts.

In the end, will Olivia and the Hawthornes thwart the destiny Robbie has foretold for them? Will they all reach their final destination together?

Or will the sins of the past be repaid in blood?
Features & Details
Primary Category: Literature & Fiction Books
Project Option: 5×8 in, 13×20 cm
# of Pages: 428
Isbn
Publish Date: Jul 21, 2021
Language English
Keywords

psychics

,

ghosts

,

Americana

,

horror

,

road trip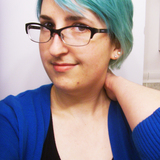 Angie Bee is a novelist, freelance writer, and pop culture pundit. She has five tattoos (so far), has lived in the Midwest and New Zealand, wrote a thesis on the socio-political commentary in zombie films, rescues cats from cemeteries, keeps skeletons in her car, and dreams of one day meeting Guillermo del Toro. Her ultimate goal in life is to be the lady all the neighborhood kids suspect is a witch. She reviews books and movies under the name Angie Barry on CriminalElement.com. The co-author of the novel Faerietale with Stephanie Rabig and Colleen Toliver, and of Sink or Swim: Tales From the Sappho with Rabig, she has several short stories published in anthologies. Follow her on Twitter: @therealzombres Check out her website: theangiebee.tumblr.com