Sacred Feminine Priestess Path Book
33 days of initiation
by Frankey Craig
This book may be found in online bookstores, like Amazon.com, using the ISBNs below:
Softcover ISBN:
9781006610806
About the Book
Delve deep into the heart of the feminine experience in solitude.

This book is more of a manual and will be an ongoing source of Light. It includes 33 full color artwork illustrations and light language codes along with daily teachings.

This is an intensive 33 day initiation process for women who hear the call of their Sacred Heart.

Discover ways to Delve Deeply into the Heart of the Feminine Experience.

Reconnect with the Powerful Woman that you are!

❤️Quick and easy daily teachings that will help provide clarity on your journey of womanhood and you will transform your life!

❤️Sacred Feminine light language codes that are used for frequency healing, activating DNA, meditating, aligning and REMEMBERING Your DIVINITY.

❤️Recalibrate from outdated, limiting ways of living and into beliefs and patterns that are empowering, inclusive, and full of possibilities. You will create a vision within yourself as a sacred mediator between heaven and earth, body and spirit. Experience yourself as the sacred being you are.

❤️Reconnect with your Authentic Self, your True Essence. You will expand your vision of yourself, and birth your most passionate, powerful, and creative Self. This is your opportunity to align with an even more soul-connected, juicy, radiantly empowered YOU. Your Wild Woman passion, power, and love will radiate courageously into the world.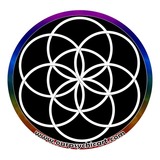 Our Psychic Art was Created in 2008 and Frankey Craig has been on a journey raising awareness of Spiritual Development, the Healing Arts and Altered States of Consciousness ever since then. Frankey is a Creative Channel, Healer and a Spiritual Entrepreneur. She has found that creativity has the capacity to guide us to our highest and most authentic self. Frankey is expert in painting mandalas, spiritual development, influencing networks, building spiritual businesses, designing, content creation, branding, marketing and selling. Frankey is the founder of Our Psychic Art (the number 1 psychic art website in the world!) and The Sacred Feminine Priestess Path Mystery School . She has been authentically supporting and serving her clients and tribe for over 15 years.