Gary Gissler
c o n t e x t u r e
by Hawk and Hive
About the Book
Works on Paper.
"…I pursue language and its capacity for creating meaning, engaging in its authority and its fragility. Literally cutting apart texts, transcribing and altering, blurring, weaving and reducing the physical words into a domain teetering on meaninglessness; it's ultimately an inquiry into the nature of the sublime, a return to pre-verbal innocence, where meaning is replaced by Being."


Gary Gissler's work is an exploration of the essence of language. Made over the course of several years, these pieces investigate the quiet consequences of pace, the implication of process and the presence of the hand. Despite apparently simple rules of execution, a literal weaving of ideas, these intimate and complex works are a meditative and deeply considered analysis of the nature of how we find meaning in the world.


In addition to his ongoing studio practice, Gissler maintains a private psychoanalytic practice, finding his work as an analyst informing his work an artist, and vice versa - "the extensive daily dialogue with patients over the nuances of meaning, the nature of being and how we perceive and interpret our world, is fundamentally the same dialogue that occurs in the studio."


Employing such classic texts such as "the Interpretation of Dreams", "Moby Dick", "Through the Looking Glass" and "Finnegan's Wake", as well as fairy tales and (anonymous) transcriptions from patients' sessions, these narratives are harvested for their content and are fully exploited for their mythic status. Acknowledging the reductivity of minimalism, this content is methodically reduced to its to meaninglessness, wherein the search for meaning becomes quite literal, in fact a physical, visceral exercise, finding ultimately that the "nothing" is it's "everything".

Features & Details
Primary Category: Arts & Photography Books
Additional Categories Fine Art
Project Option: US Letter, 8.5×11 in, 22×28 cm
# of Pages: 40
Publish Date: Oct 07, 2021
Language English
Keywords

hawk and hive

,

gary gissler

,

text art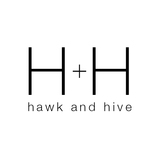 At H+H you will find art, books and objects of delight and wonder. And useful things too, like a tin mug for your fireside coffee and a lantern to see you through the dark woods. We think utilitarian can be as beautiful as the decorative. The art on our walls is mostly contemporary, an eclectic mix of representational, abstract, figurative and conceptual work by an exceptional group of emerging and established artists.