A taste of Elba Island
by ENRICO PELOS
This book is available to buy on Amazon
About the Book
Photographs and texts in Italian and English of some of the typical places, unique beaches, and abandoned places on the Elba island.
Fotografie e testi in Italiano e in inglese di alcuni dei posti tipici, spiagge uniche, e luoghi abbandonati dell'Isola d'Elba.
Features & Details
Primary Category: Arts & Photography Books
Additional Categories Fine Art Photography
Project Option: Large Format Landscape, 13×11 in, 33×28 cm
# of Pages: 112
Isbn

Hardcover, ImageWrap: 9781006170140

Publish Date: Dec 02, 2021
Language Italian
Keywords

luoghi abbandonati

,

paesaggio

,

isola d'elba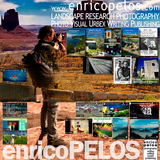 I walked my Liguria (but also the Grand Circle ...) for thousands of km and illustrated with my photography and wrote articles for magazines. I am the author of books, also a publisher and on the web and on social networks with Facebook sites and pages such as "Passeggiate a Levante" (Eastern Liguria Walks) and "Abandoned Places" dedicated to urbex photography that I began decades ago.. - Ho percorso a piedi la mia Liguria (ma anche il Grand Circle...) per migliaia di km ed illustrato con la mia fotografia e scritto articoli per riviste. E' autore dei testi e delle fotografie di «Passeggiate a Levante» (45 itinerari nella Liguria di Levante, Blu Ed., Torino, 2011); «Memorie Beatlesiane e dintorni» (co-autore testi con Rita Tunes, autore foto ed editore 2014); «Il Mulino di Neirone» (Lulu Pr. 2005-2020) «Lungo la Via Iulia Augusta in Liguria» (Lulu Pr. 2007/2014); e co-autore foto dell'«Alta Via dei Monti Liguri» (UnCamComGe ed., 1999). Ha curato PortAppennini... ed. R Ni d'Aigura...