Staff Pick
Time of Need: Art Block Zine; Vol. 7, Issue 1 X Aurtistic Zine; Vol. 3, Issue 2
a special mash-up issue
by DSTL Arts
About the Book
Art Block is a DSTL Arts program that produces a biannual zine by the same name. The Art Block Zine is put together by an editorial board that meets on a weekly basis and reviews all submissions for content, theme, and artistic quality. The work our editorial board seeks to publish should activate our five senses while inspiring us with a sense of vulnerability: a sense of realness. We hope to connect with well-developed stories and artwork.

Aurtistic Zine is a DSTL Arts publication focused on acceptance and showcasing the diverse talents of autistic individuals. With this zine we hope to provide a platform that highlights the strengths of the autism community. We want to show the individual as a whole person and not just a missing piece to a puzzle.

This special mash-up issue's theme is "Time of Need" and "Universal Design," two concepts that came together as one. We have collected here visual art, stories, poetry, and photography that attempts to express the concept(s) of coming together for the greater good.

All proceeds from the sale of this zine benefits DSTL Arts and our free programs for emerging artists from underserved communities in Los Angeles.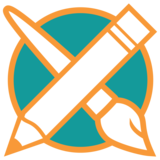 DSTL Arts is a nonprofit arts mentorship organization that inspires, teaches, and hires emerging artists from underserved communities.