Joey Saves The Day! The Missing Teddy Bear
by Mimi Jones
About the Book
Joey's adorable little sister Jinger loses her teddy bear and Joey helps her find it. This is a cute and loving story of a big brother helping out his little sister. Joey will do anything to make his little sister happy. You'll never guess where they find CoCo?

All the books in the Joey Saves The Day book series was illustrated by a 15 year old girl.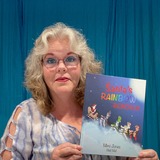 I'm the author of the JOEY SAVES THE DAY! book series. I'm married and the mother of 4 children and I have one grandchild. Me and my guitar playing husband live on the East Coast with our two youngest children. I love to write children's books and poetry. I homeschool my two youngest children. I love to learn and teach! Joey is the main character in my book series. He is a very kind, silly, and loving kiddo. He loves to save the day; the Joey way. Grab one or two of my books and join Joey on one of his many adventures to save the day. My books are to help children learn to have love and compassion for others. In the world we live in today there is always a need for more love, kindness, and compassion. My 15 year old daughter illustrated all of the books in the series. She is a very bright intelligent young lady that works very hard in all she does. Show her some love. May all of your days be filled with rainbows & sunshine even when the skies are gray! Have a rainbowtastic day!