About the Book
Photographies de rue réalisées en l'année 2021, celles qui attirent le plus mon attention.
Features & Details
Primary Category: Street Photography
Additional Categories Paris
Project Option: 5×8 in, 13×20 cm
# of Pages: 108
Isbn
Publish Date: Feb 20, 2022
Language French
Keywords

Paris

,

street photography

,

photographie de rue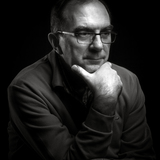 J'ai découvert la photographie humaniste sur les conseils de Robert Doisneau, rencontré au hasard d'une rue de banlieue. En quelques mots, d'une grande gentillesse, il m'a fait comprendre que l'important c'est la vie éphémère qui se déroule autour de nous. Cette vie disparait parfois, et même souvent, sans laisser de traces, sans rester dans la mémoire collective. Telles sont mes motivations en photographie. Telle est mon approche des gens rencontrés au hasard des rues parisiennes. Car j'aime Paris, son histoire, ses habitants, ses coins et ses recoins. J'aime me balader, observer les gens, leurs comportements, leur vie. Être spectateur de cette existence faite de ces petits riens qui font nos instants photographiques, mais aussi acteur en laissant moi-même une trace de mon existence pour la mémoire collective. Dans ma photographie, on trouve des paysages parisiens, souvent des poses longues car pour observer il faut aussi prendre le temps.