About the Book
Exhibition catalogue for Identity: 4 Voices, a Craft in America Center exhibition featuring four artists who explore issues of gender, race, culture, and place, offering true expressions of their experience in this world. Cristina Córdova, Wendy Maruyama, Cara Romero, and Diego Romero draw upon their heritages and identities as makers to translate their experiences into fine art. All four artists were featured in Craft in America's most recent episode of our PBS Documentary Series, IDENTITY.
Features & Details
Primary Category: Arts & Photography Books
Project Option: 8×10 in, 20×25 cm
# of Pages: 24
Isbn
Publish Date: Feb 24, 2022
Language English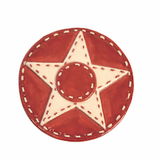 Craft in America, Inc. is a Los Angeles-based 501(c)(3) non-profit organization with a mission to promote and advance original handcrafted work through programs in all media. Craft in America includes the PBS documentary series, websites, and the Craft in America Center, ongoing exhibitions, educational programs, and publications.