About the Book
This is a book mostly about mostly nothing. Or to be precise, seven short stories about pain, absurdity and politics.
Oh, and there's a wizard in there somewhere. And a hare, let's not forget him, he's cool.
These are some stories I wrote over the last years, all of them a bit on the weird side. If you like that kind of thing, this one is for you.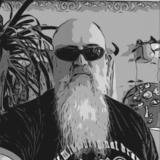 Professional CEO, amateur at everything else, including but not restricted to motorbikes, music, luthiering and philosophy. Thrives on sarcasm and humor, not very serious in general. My writing is about thing that I care about, go figure...