H Volume Three
A Comic by Alyssa Stehle
by Alyssa Stehle
About the Book
Everyone is ditching school one right after another. A teacher takes notice and pulls aside Liliana and Simone for questioning. But do they answer honestly? Even Hanako cuts class now. Lured astray by the promise of meeting "the real Alison"
Features & Details
Primary Category: Comics & Graphic Novels
Additional Categories Romance
Project Option: US Letter, 8.5×11 in, 22×28 cm
# of Pages: 56
Publish Date: Sep 19, 2022
Language English
Keywords

romance

,

drama

,

comic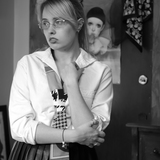 I'm from Illinois originally but currently reside in Lincoln Nebraska. I like it. I've been drawing all my life. You know, every artist says that. My main artistic influences are Naoko Takeuchi, Yoshiyuki Sadamoto and Khouta Hirano. I read a lot of old sci-fi in my spare time. I love Bradbury the most. But my favorite book of his is From The Dust Retuned...with the cover by Charles Addams. I like music too. Like the Roosterz, The Cars, and The Pillows...hey isn't that just random things? They're bands! All the parts in H are named after songs. It's fun for me to put things in like that. There are Zoolander and Evangelion references too. I guess I'm a nerd.