Bullet Lists for Educators
Reflecting on yourself, your relationships, and your work
by Tami Zacharias
About the Book
If you are looking for a way to engage meaningfully with reflection that is also manageable, this journal is for you. Designed for people in all types of educational roles, it includes 52 relevant reflective prompts, one for each week of the year. The prompts relate to you as a person, your relationships, and your work, and include space to record your thoughts as a list, or in more detail if you prefer. Each prompt is also matched with an idea for how you can put your reflections into practice. It's reflection that works for you.

This is the softcover edition. The book is also available in hardcover.
Features & Details
Primary Category: Self-Improvement
Additional Categories Education
Project Option: 6×9 in, 15×23 cm
# of Pages: 138
Isbn
Publish Date: Sep 22, 2022
Language English
Keywords

think

,

develop

,

learn

,

journal

,

reflect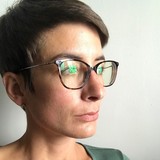 Tami Zacharias is a lifelong learner and an educational professional. She has worked with an international non-profit for more than 10 years, designing, developing, and facilitating training around the world. She holds a B.A. in Youth Leadership, a B.Ed. in Adult Education, and an M.Ed. in Educational Leadership. She is also a Certified Training and Development Professional (CTDP). Tami enjoys reflecting with a cup of coffee or while out on a walk by the water. She is based in Canada.