The Mask: Our Hidden Faces
The Mask: Our Hidden Faces
by Michael Robert Mahalak
About the Book
I started working a series of works on masks base on the way people are perceived to see themselves by hidden their true selves, or how they're really feel. It's like we are wearing a series of masks in order to pretend someone else to fit in our society. At times, we wear masks for at parties or as kids dress up as our favorite characters to get candies on Halloween. For some cultures, in modern and in ancient times, masks are also worn in rituals. These collections of works I did on the mask's series focused on all ranges on this subject, from the ancient time, on how we proceed ourself in society, and the party like atmosphere.

Features & Details
Primary Category: Arts & Photography Books
Additional Categories Fine Art, Portfolios
Project Option: Large Format Landscape, 13×11 in, 33×28 cm
# of Pages: 94
Isbn

Hardcover, ImageWrap: 9798211959927
Hardcover, Dust Jacket: 9798211959934

Publish Date: Sep 27, 2022
Language English
Keywords

mahalakart

,

Michael Robert Mahalak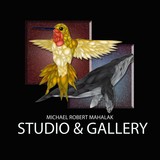 Selling my art online, shows, and local art galleries.