Staff Pick
Moon Cycle Memoirs
An intention Setting Guidebook
by Gina Nicole Ballard
About the Book
Moon Cycle Memoirs is an intention-setting guidebook and journal for novices or experts, wishing to align with the moon's various phases.

The moon affects the tides, impacts navigation for birds, and helps plants grow. Nature proves in many ways just how powerful the moon is, yet is often ignored.

Whether you want to find a new way to connect with the moon, have big plans for making miracles with the moon, or maybe wish to explore a different version of journaling, Moon Cycle Memoirs is your outline.

The pages in this journal provide a beautiful space to set intentions with each new moon, reflect on the full moon, and extra journal pages between cycles for more intention setting and tracking.

A total manifesting moon cycle is a full six months, so the intentions set on each New Moon will come full circle six months later during the Full Moon that will occur in the corresponding zodiac. The pages and design are laid out to make it easy for you to track.

While Moon Cycle Memoirs was created with a specific intention, an invitation is extended to anyone ready to open their hearts to the miracles the moon cycle provides.

This intention-setting journal will help you:

1) Have a better understanding of each moon cycle
2) Track your present moments and reflect on what may need to change
3) Nudge you to take inspired action
4) Help you to express what needs to be released
5) Remind you to celebrate your wins
6) Set focused and clear intentions that align with the energy of each new moon
7) Reassess at the full moon

This is a gentle journal for beginners and an old friend for long-time moon children.
Features & Details
Primary Category: Religion & Spirituality
Additional Categories Self-Improvement
Project Option: 8×10 in, 20×25 cm
# of Pages: 104
Isbn

Hardcover, ImageWrap: 9798211952485
Softcover: 9798211952478

Publish Date: Sep 29, 2022
Language English
Keywords

Moon Journal

,

Embodiment

,

Spirituality

,

Moon Cycle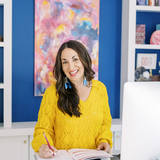 Hi there! I'm Gina Nicole, a Spiritual Mentor & Feng Shui Practitioner who focuses on embodiment. I work with high sensitive people and heart-centered entrepreneurs who feel others' emotions and are likely giving away too much. I believe when you learn how to manage this Divine connection to source energy, you can come into full alignment and live a passion-filled, purposeful life! Over the past several years, I've helped hundreds of people move intuit their blocks and live in a higher frequency. My passion is working with others to activate their innate abilities. It lights me up to see others conquer fear and come out on top, living a passion-filled, empowered life! I'm committed to providing clarity around intuition, purpose, and spirituality to business owners who seek alignment.