Something Wicked This Way Comes: An Adult Halloween Coloring Book
by Sage Lundquist
About the Book
From boo-doir to rated-R midnight showings, this coloring book has a little something for every monster-loving adult. Break it out during a Halloween party for laughs, a unique and spicy bonding activity with your partner(s), or just for some good ol' self indulgent fun!

This book contains artful adult content and is not intended for minors.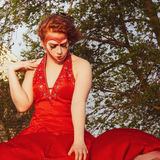 Sage Lundquist is an Illinois-based multi-media artist, printmaker, graphic designer, and brand/merchandise design consultant. Sometimes she makes little books for fun.