Hubristic Retribution; The Hammer of God
GCBSR 2022
by Duncan Hood
About the Book
Each year, for the past 33, the Great Chesapeake Bay Schooner Race has pitted captains and crews against each other for a 127-mile race down the Chesapeake Bay from Baltimore, MD to Norfolk, VA. Starting off Annapolis, each year is different, presenting different challenges; some years are stormy, some not, some are cold, others hot, there's no way of telling. Simulating a race to market around the turn of the 20th century, all that is known is that boats have to make the best speed possible down this waterway to win. It has been said that sailing is of periods of monotony punctuated by brief moments of sheer terror. This is the story/log of "Adventurer," a 56' LOA Cherubini schooner during the race of 2022, a race which was extremely calm until the last hour when she was hit by a micro-burst taking the winds from 4 knots to 40 in less than a minute. This then, is their story.
Features & Details
Primary Category: Sports & Adventure
Project Option: Standard Landscape, 10×8 in, 25×20 cm
# of Pages: 30
Publish Date: Nov 03, 2022
Language English
Keywords

Race

,

boating

,

travel

,

sailing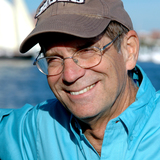 Duncan Hood has been a professional sailboat captain and Instructor Evaluator for the American Sailing Association since 1984. Over the years, Duncan has sailed, taught, and lectured in China, Japan, Canary Islands, Poland, the Bahamas, Virgin Islands, and in 20 states in the US. A popular lecturer, teacher, and captain, he currently owns and operates "Adventurer," a 56' LOA Cherubini schooner. Captain Hood is also chair of the Great Chesapeake Bay Schooner Race and has participated in this event since 2001. The mission of the GCBSR is to raise money to restore bay waters by donating proceeds to ecological and educational non-profits throughout the Chesapeake Bay watershed.