"They Met Themselves"
by Andrew J. Tonn, Mark Beckler
About the Book
Fort Ligonier, The Seven Years War, George Washington, The Friendly Fire Incident, and The 2022 Veteran's Archeology Program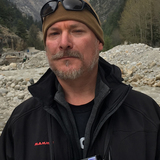 Andrew J. Tonn is an American photographer, writer and documentary filmmaker. He was awarded his Masters Degree in Writing following a degree in English Literature and the study of history and anthropology. He has worked for daily and weekly newspapers in the United States as a staff writer and photographer as well as a freelance contributor working from South Asia, Central America, Scandinavia, Eastern Europe, Ohio and Washington D.C. Over the last decade Mr. Tonn has traveled extensively and worked for various humanitarian and medical relief organizations in India, Honduras, Guatemala, Mexico, El Salvador, Sweden and Transcarpathia, Ukraine.