About the Book
Un racconto di un viaggio in Mauritania, la sabbia è dovunque, ti entra nelle ossa, copre ogni cosa.
Chi vive li lotta tutti i giorni per evitare che la sabbia copra la loro storia, ma i paesaggi che la sabbia sa creare sono indimenticabili.

Features & Details
Primary Category: Arts & Photography Books
Additional Categories Street Photography, Travel
Project Option: Standard Landscape, 10×8 in, 25×20 cm
# of Pages: 68
Publish Date: Nov 28, 2022
Language Italian
Keywords

sabbia

,

mauritania

,

viaggio

,

travel

,

photo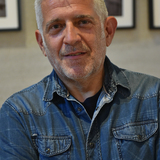 Gigi Montali, parmigiano di nascita e cittadino del mondo, ha occhi mobili e mano ferma. Viaggiando in lungo e in largo le aree più problematiche del "terzo mondo" ha allenato il suo sguardo a paesaggi maestosi e incontaminati, in cui l'uomo non è che una particella di polvere nella vita che scorre, umile e silenzioso davanti al mondo. Ma oltre alle magie delle luci, dei tramonti e dei paesaggi, immortalati con tecnica impeccabile e con la pazienza di uno sguardo lento e mai frenetico, nei viaggi che hanno riempito una grande percentuale della sua carriera di fotografo Montali ha imparato a guardare da vicino il mondo, osservandolo dal fianco per raccogliere i segnali che parlano dell'uomo. Da inguaribile ottimista qual è, Gigi Montali sa catturare i valori che costruiscono le comunità, i gesti e le storie che costruiscono la vita dell'uomo, le similitudini molto più delle differenze che rendono il suo soggetto d'elezione – l'uomo, nelle sue varie attività quotidiane ............