The Game: beat my clock
{TV Snow: Stew-art}
by Brendon Holden
About the Book
A complete untrue non-working yet a make believable code to the universe as well as to the personal computer.
The game: beat my clock TV snow is a computer holy book, if you ever have been touched by the computer books of the 80's and 90's you might recall thinking I must learn code!
As every holy book, as mystery pages, TV snow might be easier to study, but as well it might not be. A whole new spin on faith-based building; I am now not so sure I can read ancient writings as I once read.
The code still living, as simple as an older calculator: 2 plus 2 equals 4, without clearing the answer given we may find: 2 plus 2 to equal eight, and so on… now maybe we may have found a new hack, a way to look at the word RUN.
If a wave can be more or less, similar is it to a simple high-school calculator, and from there we may find the entire world online, if not the entire universe.
As simple as a child's dream, yet as complex as growing into an adult, TV snow is sure to be a book that you might need to beat the clock to read.

Features & Details
Primary Category: Computers & Internet
Additional Categories Entertainment
Project Option: 6×9 in, 15×23 cm
# of Pages: 134
Isbn
Publish Date: Dec 28, 2022
Language English
Keywords

New Fiction

,

Time Travel

,

Computer Code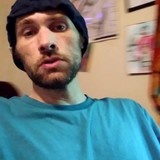 I am a Vermont Author, musician, and artist. I have written such books as Smoking by the River and The Game, and produced such music as: Poison Berries, Behind the Night Sky and Back to Life! I am most proud of the Behind the Night Sky Trilogy books. I hope to inspire those that I can and share enough to have made a positive difference in the world! I would love others to read my work and grasp the in-depth conversations written within the pages, to say, yeah, we can talk about that!