About the Book
How does one attempt to portray an emotional response to a new and exotic travel location? What does the soul there look like, feel like? My approach was to choose many of these pictures as abstract, intimate versions of elements within each local destination. Many are quiet scenes that may not be noticed while hiking, walking, or traveling throughout this exotic country.

During February, 2010, my wife and I visited three diverse areas of Australia: Cairns, Melbourne, and Sydney.

This continent is just so - different. Many surprises exist, from the exotic flowers and plants, to the unusual animals and birds.

I hope my pictures will reflect this sense of awe that we felt as we enjoyed our Down-Under adventure!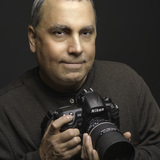 JERRY GRASSO has been an award-winning, international fine art photographer and visual artist since 2002. He has mentored locally with photographer, Mallorie Ostrowitz, and with internationally-renowned visual artist, John Paul Caponigro. Photography is only the starting point for many of his projects. His favorite motivational quote is that "Life begins at the edge of your comfort zone." In addition to his travel photography, Jerry specializes in the intimately abstracted architectural photography, the photo essay, and the photo composite series. Jerry's mission is to awaken his viewer's inquisitive inner child by creating an awareness of place and a sense of history, with an aura of mystery.