Children of the Vines
Book 2 in The Children of Myth
by Angela Wallis Moore
About the Book
Children of the Vines takes the reader on a journey from Crete to Australia, from the goldfields of New South Wales to the mysterious mountains of the Northern Rivers, revealing the connections between the events of long ago and the challenges of the present day.

Ronan and Ariadne become unwitting players in a drama which was set in motion eons ago, amplified by the events of World War II, and finally reaches fruition in ways which will change their lives forever.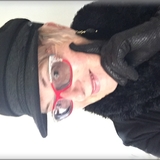 Angela Is an author, blogger, composer, singer and photographer based on the mid north coast of New South Wales. Her background as a therapist with a special interest in myth informs her writing, and she composes and records atmospheric music to accompany her novels.