Colorful Language
A Coloring Book
by laurameghan
This book may be found in online bookstores, like Amazon.com, using the ISBNs below:
Softcover ISBN:
9798211620278
About the Book
This stunning coloring book will fill you with hours of relaxing fun. Simple and complex designs are perfect for all skills levels.

Each page is 1-sided with anti-bleed through designed backing.

Mesmerize your friends with your ready to frame finished pages.

Page Size - 8 x10

This book will make a wonderful gift for any occasion.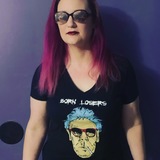 I design, write, and compile things. I also manage bands and develop merch.