Black Girl Creative Manifesto (Second Edition)
A Love Letter To Black Women Creators, Dreamers and Makers
by Alecia Renece
About the Book
Your creativity is sacred. It's a gift from your Creator to enjoy, to heal, commune and share with others.

This Love letter and manifesto is here to help you to recover and reclaim those dreams, and to empower you to continue to create.

What does it mean to be a creative Black woman?

We're all recovering something we lost. Perhaps we lost our way, our identity, our dreams, our selves.

We're all healing from something that was broken. Maybe our hearts were broken, our hopes, our spirit.

I believe as creatives we're all a little bit broken and we've been gifted with the ability to find our way back to the Truth, our way back to Healing, our way back to ourselves and our Creator through Creativity, Community, Storytelling and Healing.

Let's Start the journey back home.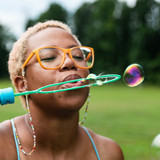 hi, there! my name is Alecia and I am an artist whose mission is to tell the truth, create space for vulnerability and healing within my creative offerings, and spreading love to beautiful folks like you. One piece of artwork at a time. I am a… Loved Child of God. Soulful Singer-Songwriter. Storyteller. Multi-Passionate Healing Artist. Dream Doula. Creative Wellness Guide. Unapologetic, Loving, Feeling, Free Black Woman. I am dedicated to creating art and a life that moves, art that encourages, art that resonates, art that frees, art that speaks truth and art that connects. I believe in using my newfound freedom to free others.