Kids Who Never Were or Are Yet To Be
by Jacquelyn Ford Morie
About the Book

When I was a child I made paper dolls. I made hundreds of paper dolls, each with unique names, wardrobes, and stories.

Now, in the 21st Century, I can think my erstwhile children into being by simply typing a phrase that captures their essence. And then I stand back and watch while they appear out of a swirling mist of noise and pixels.

I know these children. I know what they are thinking, what they are dreaming, where they want to hide.

They were each living in the back of my mind, just waiting to emerge. And emerge they did. Here they are to be shared and enjoyed.

Jacquelyn Ford Morie is an artist and technologist. She is deeply interested in how we see ourselves in our many guises, and the vast range of people that make up the living tapestry of humanity.
Features & Details
Primary Category: Arts & Photography Books
Additional Categories Computers & Internet, Children
Project Option: Large Format Landscape, 13×11 in, 33×28 cm
# of Pages: 34
Publish Date: Feb 16, 2023
Language English
Keywords

generative

,

AI Art

,

dreams

,

imagination

,

children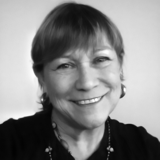 Artist since I was born. Scientist since I was 3. Love them both.