Soul Searching
Removing The Veil
by Madeline M Allen / SmudgeArt
About the Book
In this self help book digging deep into my soul for answers I found I have not only survived this far, but I have also been granted an understanding, by the power of this universe, to not dwell on the negative. I can feel positive, accept the lessons of life, allow myself to be filled with gratitude for what I do have, and not allow the negative that surrounds me at any given time, to define who I am!
Features & Details
Primary Category: Biographies & Memoirs
Additional Categories Self-Improvement, Inspiration
Project Option: 6×9 in, 15×23 cm
# of Pages: 66
Isbn
Publish Date: Feb 20, 2023
Language English
Keywords

limiting-beliefs

,

searching

,

memoirs

,

self-help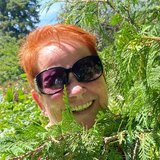 My name is Madeline (Eveleigh) Allen and I was born in Central Newfoundland / Labrador, Canada in the fifties. Surrounded by beautiful colors of vibrant nature scenery, forests, the Atlantic ocean, rivers, lakes and streams that have been ingrained in my memory and heart and never forgotten.. Moved to Winnipeg, Manitoba in the early seventies and made it my forever home to raise my three beautiful children that have made me a Nanny to 5 amazing Grandchildren. Retired for twenty plus years and always been fascinated by images and how the world is represented through the eyes of others. I have been inspired to become a Photographer, that lead me to become a Digital Artist, a Greeting Card Designer and few years later I was inspired to become a self taught Artist using Acrylic paints and fulfilling my lifelong dream. Also today I have accomplished another dream and have published the first of my books of my life story. When you open your heart and soul to the Universe expect to be gifted!