Through the Lens of an American Woman Alone in Cuba
by Lisa Konczal
About the Book
Through the Lens of an American Woman Alone in Cuba is a book of unique perspective, at a poignant time in history.

The beautiful and stereotypical photography one is used to of this island, is presented in contrast to the more prevalent and raw imagery that few non-Cubans see.

Accomplished artist, Lisa Konczal's, perspective as one of few Americans in Cuba - and the rarity of being an American woman traveling there alone (and oftentimes on streets few tourists go) - is a particularly unique one that undoubtedly impacted the composition and messages in her photographs.

Photographer, Lisa Konczal, documented Cuba at a historic time of very limited access for Americans - the week before former President Barack Obama's first visit. This body of work informs understanding of Cuba's economic crisis today, but also evokes larger themes about humanity and identity - freedom - happiness and expectations… dreams.

A thought-provoking and informative collection of images - and as is typical with Konczal's various creative work - ultimately promoting human connection.
Features & Details
Primary Category: Arts & Photography Books
Additional Categories Coffee Table Books, Travel
Project Option: Small Square, 7×7 in, 18×18 cm
# of Pages: 84
Publish Date: Mar 09, 2023
Language English
Keywords

caribbean island

,

female author

,

solo travel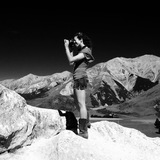 Lisa Konczal was trained at Duke University's Center for Documentary Studies, following a degree in Communications from North Carolina State University and Art / Film / History courses at the Université Catholique de Lille in France. Her inclination to capture undirected moments and passionate people in action has led to diverse collaborations with Grammy award-winning musicians, Oscar and Emmy award-winning filmmakers and actors, reputable brands and networks - and other wonderful people, from California to Carolina and internationally. You can also experience Lisa Konczal's same core mission of promoting cross-cultural connection in her other creative mediums, as an entertainer on-camera and for live events.