The Bulletin of Atomic Science
A photographic Leica survey of the nuclear scene.
by Michael Limbert
About the Book
Looking at today's unstable atomic-powered society, I wanted to go back to where it all began - Trinity at White Sands, Alamogordo and Los Alamos to study the origin, find clues that might give insight into our present state of fissionable affairs. Answers to what trivialized the awesomeness of the atom. Shot with Leica M9.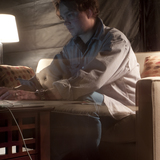 I photograph what pops out from the background. People that move me, places that excite me and situations that speak volumes in their silence. Objects that rust very loudly. Out there in the street of it all, each person indulges their moment; folks at lunch with time running out, late for meetings, going to the bank, lost in thought, hungry. Long after the photo is printed it all looks so silly. What was important then is completely different now. And that's the transformation I live for. The reason I take photos. To feel the before and after. --- PhotoJournal: www.rangefound.com