Intertextuality Starts Here: Art Block Zine; Vol. 8
by DSTL Arts
About the Book
Art Block is a DSTL Arts program that produces a monthly podcast and annual zine by the same name. The Art Block Zine is put together by an editorial board that meets on a weekly basis and reviews all submissions for content, theme, and artistic quality. The work our editorial board seeks to publish should activate our five senses while inspiring us with a sense of vulnerability: a sense of realness. We hope to connect with well-developed stories and artwork.

This volume's theme is "Intertextuality." We have collected here visual art, stories, poetry, and photography that attempt to express the various ways in which artists draw inspiration from the work of others and real-life experiences. The artwork gathered here is in conversation with itself, with its audience, and with the creative masters of humanity's past, present, and future.

All proceeds from the sale of this zine benefit DSTL Arts and our free programs for emerging artists from underserved communities in Los Angeles.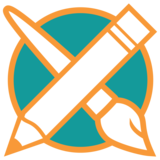 DSTL Arts is a nonprofit arts mentorship organization that inspires, teaches, and hires emerging artists from underserved communities.