Cryptology Collections - Concepts and Designs by Kristen Dettoni
Cryptology Collections
by Kristen Dettoni
About the Book
The Cryptology Collections book is a series of innovative coded designs inspired by female codebreakers. Kristen Dettoni creates intricate and beautiful patterns with hidden messages using a variety of codes such as the Rosicrucian Cipher, barcode, Morse code, and the Greek square cipher, to name a few. Learn about the women codebreakers of WWI and WWII while trying to crack the codes of the designs.

If you love codes, coding, cryptology, and beautiful graphics, this book is not only entertaining, but exquisite and alluring.

Concept and designs are from the imagination of Kristen Dettoni, written by Kristin Crane, and photography by Kristen (KJ) Fuller.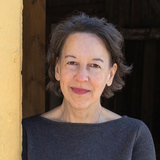 Kristen Dettoni is a visionary textile designer based in Southern New Hampshire with a track record of industry-defining contributions dating back to 1993. Her creative influence is reflected in her work across multiple sectors, including automotive, office, hospitality, healthcare and home furnishings. Dettoni is credited with designing the first sustainable upholstery fabrics for office and automotive interiors and holds a patent for innovative automotive suspension seating. In 2019, leveraging her unique insights and expertise in the field, Dettoni founded Design Pool, the only pattern library and marketplace created exclusively for interior markets. Design Pool's revolutionary approach to design and manufacturing was recognized by leading industry authorities, with the Cryptology Collection winning the HiP Award from Interior Design Magazine and Metropolis Likes from Metropolis in 2021. The Invisible Threads collection also gained recognition as a HiP Award Honoree in 2022.