About the Book
A family living in the rural hills of Naples is subjected to the German siege during the final years of the Italian Campaign of World War Two. Enzo, the family patriarch, tries desperately to provide for his wife and children though their troubles worsen with every passing day. As the Allied forces make their way to the port of Naples, the German occupiers grow more violent and inflict strict laws on the populace. The story is seen through the eyes of Ettore, the family dog, who watches his family struggle to overcome sadness, battle starvation, and avoid being killed. As the final days leading up to the infamous "Four Days of Naples" erupt in conflict, the family is caught between the German police state and the Allied invasion of Italy.
Features & Details
Primary Category: Literary Fiction
Additional Categories History, Action / Adventure
Project Option: 5×8 in, 13×20 cm
# of Pages: 188
Isbn
Publish Date: Aug 30, 2023
Language English
Keywords

italy

,

europe

,

war

,

historical fiction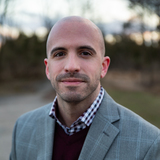 Nick earned his undergraduate degree from Lafayette College, where he double majored in Government and Law and International Affairs. He then completed his Master of Science in Education from Saint Joseph's University. Between these life milestones, he found himself in some careers that no doubt provided him with a lot of material to inspire upcoming stories. But it wasn't long until Nick discovered his current passions for teaching high school Social Studies and coaching Cross Country and Track and Field. For as long as anyone has known him, Nick has been interested in telling stories. Throughout his life, his curiosity has led to many obsessive explorations into whatever topics piqued his interest. But what would Nick say are his favorite stories to tell? When faced with this question, he would tell you that his best stories are the ones that come from his childhood memories and the historical events he shares with his students.