About the Book
Durante il mio soggiorno in Giappone, nella città di mia moglie, ho potuto interpretare a modo mio la sua città. Una città di periferia, che come tutte le periferie è una città dormitorio.
Features & Details
Primary Category: Fine Art Photography
Additional Categories Japan, Arts & Photography Books
Project Option: Standard Landscape, 10×8 in, 25×20 cm
# of Pages: 20
Isbn
Publish Date: Sep 26, 2023
Language Italian
Keywords

photography

,

fineart

,

suburbs

,

periferia

,

Ebina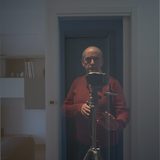 Stefano Germi was born in Prato, Italy, in 1969. He has been working in photography since he was teenager using a 35mm camera. Mostly self-taught, a part the basic that his father taught him. He attended the Tuscany Photographic Workshop where he studied the Zone System with Willie Osterman and Black and White Print Basic and Advance techniques with Jim Megargee. He attended an Andrea Modica's workshop, where Stefano was fascinated by 8x10" camera. After the workshop, he decided to use this format,but he completely changed his idea when he visited an Edward Weston's exhibition, where he discovered a new photographic method. Stefano studied with Michael A.Smith and Paula Chamlee in their workshop and he learnt to print on silver-chloride black and white paper.Now all his work in black and white is done with this technique. A new book will be printed late next year. Currently I started to take photo also in color with a digital camera expanding my vision.His work is been exposed widely.