The Rolls-Royce Silver Ghost Alpenfahrt Tour 2023
110th Anniversary Tour
by Classic Travelling
About the Book
A celebration and re-creation of the 1913 Alpine Trial, or Alpenfahrt, which was the sternest test in Europe of a car's engineering, reliability and performance in the pioneering days of motoring.

Wounded by failing to finish the previous year after grinding to a halt on the famous Katschberg Pass, James Radley returned in 1913 as one of the legendary 'Alpine Eagles', four Rolls-Royce Silver Ghosts whose collective dominant performance ensured that the name Rolls-Royce was written in legend in the early years of the automobile for the grace and their technical excellence.

To mark the 110th anniversary of this incredible performance the Rolls-Royce Enthusiasts Club Silver Ghost Register re-enacted this tour, but in a more leisurely fashion.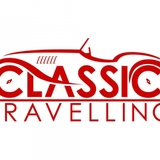 Founded in 2003, Classic Travelling has revolutionised driving and motoring holidays for classic, vintage and sports cars, and drivers, of all ages. Focusing on touring holidays for those who seek the road less travelled and who would prefer never to be labelled a tourist. Classic Travelling delivers an unbeatable standard for driving enthusiasts; exploring the world - one great road after another. www.classictravelling.com