An Infinite Variety of Similar Things
by JS van Buskirk & Julie Püttgen
About the Book
An Infinite Variety of Similar Things (IVOST) was initially conceived of by JS van Buskirk as part of an Atlanta Poets Group performance inspired by John Cage's Indeterminacy (a collection of that artist's one-paragraph short stories). The poems are one minute long when read aloud, and each is an arbitrary excerpt from a theoretically infinite thought process or preoccupation. The complete text of the IVOST series consists of 60 poems: an hour's worth of a theoretically infinite assortment of preoccupations. They are abstract, lovely, melancholy, silly, banal – encompassing the scope of private thought. Each poem has a key line repeating throughout, representing the recursive and repetitive nature of mental preoccupation.

At around the same time JS began work on the IVOST poems, Julie Püttgen was developing the Internet Mandala process as part of her MFA work at Georgia State University. This system of text-to-image translation functions by layering images found through search engine results for selected texts or key words, and assumes the following: that there is an underlying visual order within the internet; that trolling for images using words as bait yields important insight into this order; and that participation in a series of chance operations within this order can produce a culturally significant mirror for personal meaning.

JS and Julie – lifelong friends – soon realized that the IVOST poems and the Internet Mandala process would each greatly benefit the other in a collaborative project. Julie created mandalas for JS' key lines in each of the IVOST poems. The image associated with each poem is thus essentially a translation of the poem's key line into a sort of visual language of the internet. Some of the IVOST mandalas clearly reveal their connection to the text, while others stand in peculiar and even startling contrast to their textual sources.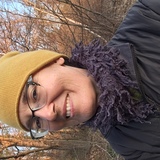 I was born in 1972 in Lausanne, Switzerland, and attended Yale University (BA in Studio Art), Georgia State University (MFA in Drawing, Painting, and Printmaking), and Goddard College (MA in Clinical Mental Health Counseling / Expressive Arts Therapy).  I move through the world as a writer of creative non-fiction, socially-engaged artist, teacher, lover of movement, backpacker Dharma bum, companion of rescue pups, former Buddhist nun, and present-day expressive arts and somatic therapist. I've been around the block, tried many things, succeeded and failed, and carried my heart through many of this world's wild, beautiful, boring, terrible, sacred spaces.