Sudden Stillness
Visual Echoes of Timeless Rhythms
by Photographs by Andy Ilachinski
About the Book
The photographs in this book are simple, Zen-like meditations on the mystery of nature's primal patterns, expressed in four movements (each introduced by a short essay): Chaos, Order, Complexity, and Entropy.

Chaos is disorganized and formless; Order is imposed structure; Complexity is self-organized and emergent; Entropy is decay and death, but which presages rebirth.

These interpenetrating patterns drift ineffably on the currents of even deeper meta-patterns that provide a glimpse of a fundamental visual grammar of aesthetics and reality.

This book can also serve as a palimpsest of the author's – and reader's – process of self discovery.

As nature is quietly revealed, through four "movements" of snapshots of its timeless rhythms, the reader discovers visual echoes of herself experiencing nature as sudden stillness.
Features & Details
Primary Category: Fine Art Photography
Project Option: Standard Landscape, 10×8 in, 25×20 cm
# of Pages: 282
Publish Date: May 16, 2008
Keywords

black and white

,

fine-art

,

photography

,

meditation

,

spiritual

,

poetic

,

philosophical

,

tao

,

Buddhism

,

complexity

,

chaos

,

order

,

entropy

,

haiku

,

Zen

,

mysticism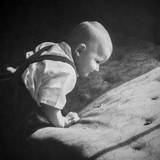 A Ph.D. physicist specializing in modeling complex adaptive systems by day, Andy is a published photographer who spends most of his free time with a camera. A founding member of Lorton Arts Foundation's Workhouse Photographic Society in 2009 (near Occoquan, VA), his photographs have won numerous awards, have been exhibited in many juried solo and group shows, hang in galleries, businesses, and private homes, and have appeared in numerous publications. Featured in Lenswork four times, spotlighted in B&W magazine twice, multiple-time finalist in the prestigious B&W Spider Awards, and published on many on-line magazines and blogs (including Luminous Landscape and Shadow & Light magazine), Andy has also been featured in Stone Voices magazine and won the international book contest sponsored by the UK Black + White Photography magazine in 2007. His blog (started in 2004) has been named one of the top 100 photography blogs by Photography Colleges