Fairchild Tropical Botanic Garden
An Oasis of Resplendent Beauty
by Photographs by Andy Ilachinski
About the Book
Fairchild Tropical Botanic Garden is one of the world's preeminent botanic parks. It is located at 10901 Old Cutler Road, Coral Gables, Miami, Florida.

Fairchild was founded by Robert H.Montgomery (an attorney with a passion for collecting plants) and first opened to the public in 1938. It was named after his friend, David Fairchild (1869-1954), who was one of the greatest plant explorers of all time. The park has an extensive collection of rare tropical plants, and is home to numerous botanical science programs, focusing on research and species and habitat conservation projects aimed at understanding and preserving tropical plant biodiversity.

Although I do not live in the Miami area, I visit many times a year because of family in the area; and always make at least a few treks to Fairchild with my camera. For me, Fairchild represents a meditative oasis filled with a spiritual, resplendent beauty.

This book contains 53 black and white and 15 color images that capture some of my most cherished tranquil "Fairchild moments," and represents an intimate fine-art photographer's view of the park. All photographs were taken between 2000 and 2008.
Features & Details
Primary Category: Fine Art Photography
Project Option: Standard Landscape, 10×8 in, 25×20 cm
# of Pages: 102
Publish Date: May 16, 2008
Keywords

fine-art photography

,

black and white

,

nature

,

garden

,

serenity

,

meditation

,

water

,

tropical

,

park

,

tao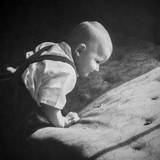 A Ph.D. physicist specializing in modeling complex adaptive systems by day, Andy is a published photographer who spends most of his free time with a camera. A founding member of Lorton Arts Foundation's Workhouse Photographic Society in 2009 (near Occoquan, VA), his photographs have won numerous awards, have been exhibited in many juried solo and group shows, hang in galleries, businesses, and private homes, and have appeared in numerous publications. Featured in Lenswork four times, spotlighted in B&W magazine twice, multiple-time finalist in the prestigious B&W Spider Awards, and published on many on-line magazines and blogs (including Luminous Landscape and Shadow & Light magazine), Andy has also been featured in Stone Voices magazine and won the international book contest sponsored by the UK Black + White Photography magazine in 2007. His blog (started in 2004) has been named one of the top 100 photography blogs by Photography Colleges