The Art and Life of Sam Ilachinski
Life, Beauty, and Cosmos
by Katherine and Andy Ilachinski
About the Book
"I like to paint," is how Sam ("Slava") Ilachinski almost always answered the question, "What do you do?", along with the minor variation, "I liked to paint," if asked about what he remembered about his childhood. These simple phrases serve as perfect epitaphs to this preternaturally gifted artist, who spent virtually all of his 75 years creating magnificent works of art.

Born in 1925 in Taganrog, Russia (birthplace of Anton Chekov), Slava's family eventually found themselves in the United States, where Slava became a renowned and much sought-after art restorer, and an even more gifted artist. Expert observers have likened his abstract work to that of well-known Russina paint, Wassily Kandinsky.

Slava passed away in 2002, after a very long and painful bout with several forms of cancer. Seldom has a soul so bravely fought the miseries of this disease, or faced each new setback with as profound a grace and humor. Despite enormous physical difficulties, Slava never strayed too far from his studio, even as the already brief stretches of time his poor withered legs were able to support him kept right on diminishing.

Everyone who has known this brilliant and humble man knows that they are forever blessed with the memory of a soul who, via his art, brought all of us a step closer to God. His eye for beauty, his deep resonance with nature's sacred patterns, and his gentle humility will be missed more than words alone can possibly convey.

Many artists have come and gone, of course, and many creative people remain in our midst, but never again will the world's beauty be quite so radiant, and the portal to the spiritual realm quite so wide and inviting, as when this quiet, visionary genius was immersed and reveling in the creative process in his studio.

My mother and I offer this book on the art and life of our beloved "Sam," as a loving tribute to a beautiful soul, and as a portal for others to discover - and marvel at - the precious gifts he left behind.
Features & Details
Primary Category: Fine Art
Project Option: Small Square, 7×7 in, 18×18 cm
# of Pages: 340
Isbn
Publish Date: Jun 19, 2012
Language English
Keywords

abstract art

,

abstract expressionism

,

landscape art

,

russian artist

,

fine-art

,

watercolor

,

biography

,

kandinsky

,

artist

,

taganrog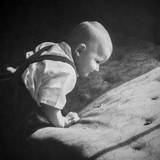 A Ph.D. physicist specializing in modeling complex adaptive systems by day, Andy is a published photographer who spends most of his free time with a camera. A founding member of Lorton Arts Foundation's Workhouse Photographic Society in 2009 (near Occoquan, VA), his photographs have won numerous awards, have been exhibited in many juried solo and group shows, hang in galleries, businesses, and private homes, and have appeared in numerous publications. Featured in Lenswork four times, spotlighted in B&W magazine twice, multiple-time finalist in the prestigious B&W Spider Awards, and published on many on-line magazines and blogs (including Luminous Landscape and Shadow & Light magazine), Andy has also been featured in Stone Voices magazine and won the international book contest sponsored by the UK Black + White Photography magazine in 2007. His blog (started in 2004) has been named one of the top 100 photography blogs by Photography Colleges