Santorini, Greece
Shadow & Geometry
by Andy Ilachinski
About the Book
This book is a fine-art photography travelogue of a trip my wife and I made to Santorini, Greece in July 2008.

Santorini - sometimes also called Thera - is a small archipelago of volcanic islands located in the southern Aegean Sea, about 200 km southeast from the Greek mainland and is the southernmost member of the Cyclades group of islands. It has an area of about 30 sq. mi., and has a population of about 14,000. The largest towns are Fíra, Ia, and Pyrgos. Santorini was originally called Stroggili (meaning "circle" in Greek), and was a single island, until a volcano near its center erupted about 1645 BC and created a massive caldera. Numerous eruptions have occurred since then, the most recent one in 1950.

While the images assembled here fall far short of conveying a complete picture of Santorini's otherwordly preternatural beauty, if collectively they evoke in you, kind reader, even a hint of the joy and awe I felt while capturing them with my camera, my effort in producing this book will not have been made in vain. Santorini is, for me, earth's echo of divinity.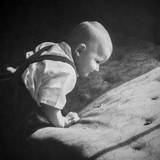 A Ph.D. physicist specializing in modeling complex adaptive systems by day, Andy is a published photographer who spends most of his free time with a camera. A founding member of Lorton Arts Foundation's Workhouse Photographic Society in 2009 (near Occoquan, VA), his photographs have won numerous awards, have been exhibited in many juried solo and group shows, hang in galleries, businesses, and private homes, and have appeared in numerous publications. Featured in Lenswork four times, spotlighted in B&W magazine twice, multiple-time finalist in the prestigious B&W Spider Awards, and published on many on-line magazines and blogs (including Luminous Landscape and Shadow & Light magazine), Andy has also been featured in Stone Voices magazine and won the international book contest sponsored by the UK Black + White Photography magazine in 2007. His blog (started in 2004) has been named one of the top 100 photography blogs by Photography Colleges