BAGNO - Rimini in November
BAGNO - Rimini in November
by Martin Czarnecki
About the Book
The coast of Rimini - birthplace of Federico Fellini - is still marked by the package holiday industry and its boom in the 1960s. Northern Europeans, predominantly Germans, spent their summer holidays here. Ranging along almost 15 kilometres of "furnished" beach, some 1,400 hotels were built well into the 1970s. Furnished - to quote the tour company brochures - means 40,000 sunshades with loungers for hire, changing cubicles, playgrounds, showers and kiosks. Then come the numerous restaurants, bars and discotheques.



Since then other destinations, such as Mallorca, have surpassed Italy's Adriatic coast's standing. The following photos reveal my impressions at the end of the season in November, when apart from three hotels and a few restaurants everything was closed. The soft light of the overcast November sky together with the pastel colours of the buildings call forth a special aesthetic and a morbid charm.
Features & Details
Primary Category: Fine Art Photography
Project Option: Small Square, 7×7 in, 18×18 cm
# of Pages: 52
Publish Date: Nov 23, 2012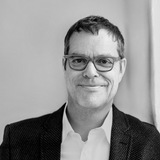 born in 1965 in Hamburg, 1988-1991 photography apprenticeship, 1992-1996 studied architecture in Hamburg, works as a self-employed architect in Hamburg since 1998 I have repeatedly worked on my own photographic projects since the 1990s, focussing on aspects of the built environment and the built leisure environment.