About the Book
My series, Dias de los Muertos, or Days of the Dead, attempts to depict the days of remembrance and celebration of the lives of our departed loved ones. I am christening this technique as a visual allegory, best viewed from start to finish. Each individual piece contributes to the celebration, but there is also the sequence and movement of the Annular Eclipse. This contributes a second layer to the series that allows the viewer to have multiple levels to experience, interpret, and hopefully enjoy!
Features & Details
Primary Category: Arts & Photography Books
Project Option: Standard Portrait, 7.75×9.75 in, 20×25 cm
# of Pages: 40
Publish Date: Dec 11, 2012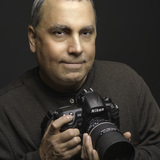 JERRY GRASSO has been an award-winning, international fine art photographer and visual artist since 2002. He has mentored locally with photographer, Mallorie Ostrowitz, and with internationally-renowned visual artist, John Paul Caponigro. Photography is only the starting point for many of his projects. His favorite motivational quote is that "Life begins at the edge of your comfort zone." In addition to his travel photography, Jerry specializes in the intimately abstracted architectural photography, the photo essay, and the photo composite series. Jerry's mission is to awaken his viewer's inquisitive inner child by creating an awareness of place and a sense of history, with an aura of mystery.