About the Book
"Orpheid: L'Arrivée" is a book for the courageous reader.  Written in a multilingual patois of English and French, it's an adventure in language.  The dazzling kaleidoscope of inventive wordplay mirrors the altered state of its protagonist, a young writer undertaking an odyssey to Paris, a pilgrimage to Montmartre, to realize his destiny as an artist.

Night has fallen when we meet our presumptuous little hero in the back of a taxi, heading towards the basecamp of his dream, the unprepossessing square Caulaincourt with its hostel perched on the butte, and its luminous golden café, Le Cépage Montmartrois.

Punctuated with four full-colour illustrations by the author of the places so precisely described in the text, every sight, sound and scent that shoots forth from the obscurity of the Parisian night to reach his senses is subjected to minute analysis by our young man, who treats his epic flânerie from airport to bed with all the comic heroism of a cosmonaut setting foot upon another world.

The bravura verbal inventiveness of Dean Kyte's elevated literary style vividly conveys the extraordinary in the ordinary, the surreal sense of the rich and strange that common things acquire for every traveller thrust into a new locale, such that "Orpheid: L'Arrivée" reads, across its 200 pages, like an epic prose poem.

For the reader up to the adventure, it's a pæan to the radiance which certain days of our lives acquire in memory when we heroically step outside the orbit of our habits to meet the destiny of our dreams—and to encounter the person our days have prepared us to become.
Features & Details
Primary Category: Literature & Fiction Books
Additional Categories Literary Fiction, Paris
Project Option: 5×8 in, 13×20 cm
# of Pages: 204
Publish Date: Dec 16, 2012
Language English
Keywords

paris

,

orfeo

,

dean kyte

,

orpheid

,

l'arrivée

,

kyte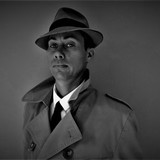 DEAN KYTE is a Melbourne-based writer, artist, filmmaker and flâneur. The author of six books published through Blurb, in addition to publishing his own work, Dean also provides Bespoke Document Tailoring and Artisanal Desktop Publishing services to Australian and international clients via his website, deankyte.com.