Ice Abstractions
Ephemeral Glimpses of Frozen Surrealities
by Andy Ilachinski
About the Book
The ice abstracts that appear in this book were all taken during a particularly busy time for me (both at work, at my "day job" as a physicist, and at home, where my wife and I are raising two small, and very raucous, boys). The abstracts are thus, for me, equivalents of an inner need to release pent-up stress and a yearning to escape to distant lands.



It is ironic that these abstracts might easily be mistaken for a literal depiction of a frozen Himalayan landscape; for it was precisely in hopes of finding such Himalayan-like landscapes that I set out exploring the compositional possibilities of bucket-fulls of melting cocktail ice.



After spending a few weeks capturing and processing the images - and living with a dozen or so prints on the wall (a common "trick" among photographers to help judge the "staying power" of an image) - these quasi-realistic depictions of frozen distant lands quietly, almost imperceptively, transformed themselves, in my mind's eye, into abstracts of a different form: ephemeral glimpses of frozen surrealities.
Features & Details
Primary Category: Fine Art Photography
Project Option: Small Square, 7×7 in, 18×18 cm
# of Pages: 114
Publish Date: Jan 27, 2009
Keywords

black and white

,

metaphor

,

spiritual

,

abstracts

,

ice

,

photography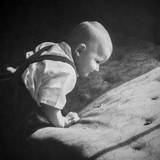 A Ph.D. physicist specializing in modeling complex adaptive systems by day, Andy is a published photographer who spends most of his free time with a camera. A founding member of Lorton Arts Foundation's Workhouse Photographic Society in 2009 (near Occoquan, VA), his photographs have won numerous awards, have been exhibited in many juried solo and group shows, hang in galleries, businesses, and private homes, and have appeared in numerous publications. Featured in Lenswork four times, spotlighted in B&W magazine twice, multiple-time finalist in the prestigious B&W Spider Awards, and published on many on-line magazines and blogs (including Luminous Landscape and Shadow & Light magazine), Andy has also been featured in Stone Voices magazine and won the international book contest sponsored by the UK Black + White Photography magazine in 2007. His blog (started in 2004) has been named one of the top 100 photography blogs by Photography Colleges