A SUBLIME REALM Buddhist Landscapes
by Daniel Miller
About the Book
A Sublime Realm: Buddhist Landscapes is a sensitive portrayal of the Buddhist environment of India, the Himalaya and the Tibetan Plateau. Over a thirty year period, Daniel Miller journeyed from the hidden valleys and remote temples and monasteries of Nepal and Bhutan, to the Tibetan Buddhist regions of Ladakh and Sikkim in India, throughout Tibet, and to the sacred Buddhist pilgrimage sites of India. This unrivaled temporal and geographic perspective provides an incomparable photographic collection that adds immeasurably to our understanding of an awe-inspiring landscape and an extraordinary culture. With 140 black and white portraits and landscape images, this book will delight photographers, travelers and pilgrims as well as those who appreciate the undying faith of the inhabitants of the Tibetan Buddhist landscapes of Asia.


Features & Details
Primary Category: Fine Art Photography
Project Option: Large Format Landscape, 13×11 in, 33×28 cm
# of Pages: 160
Publish Date: Feb 22, 2009
Keywords

Tibet

,

Nepal

,

Himalaya

,

Buddhism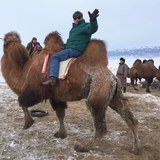 Bought my first camera, a Canon FTb, in 1974 when I went to Nepal for the first time. For most of the last 40 years I have been working with nomads in Afghanistan, Bhutan, China, Mongolia, Nepal and Tibet. Although I still use a Canon F-1 manual camera, I increasingly find the photos on my iPhone to be quite satisfactory.