Flatcreek Tales: Citizens
by J. Michael Dumoulin
This book may be found in online bookstores, like Amazon.com, using the ISBNs below:
Hardcover, ImageWrap ISBN:
9781320880763
About the Book
Flatcreek Farm is a real place. "Citizens" is the first of a set of three bedtime story books for grown-ups, written conversationally as a whimsical balm for weary parents looking for some perspective after a long, serious and sometimes chaotic work day. Tales of great hunts, potato-eating possums and "aha moments underscore some of Flatcreek's simple lessons.
Features & Details
Primary Category: Children
Additional Categories Literature & Fiction Books, Inspiration
Project Option: 6×9 in, 15×23 cm
# of Pages: 34
Isbn

Hardcover, ImageWrap: 9781320880763

Publish Date: Mar 13, 2015
Language English
Keywords

animal

,

fable

,

farm

,

country

,

bedtime

,

children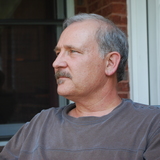 J. Michael Dumoulin is a 30-year Air Force veteran; a NASA retiree; former museum strategic initiatives director; and an author/illustrator. He is an award-winning communicator, a writer, and exhibit designer. He published his first book, "This and That," in 2011. The three-book set "Flatcreek Tales" (2015) were his 2nd, 3rd, and 4th books. J. Michael's fifth book, "Followership: The Manual" came out in 2016 (4th ed., 2020) and "Great Nations Dare to Explore" in 2017. "A Frenchman's Duty," (1st ed) is available at Amazon and on Kindle, and someday, when he feels old enough to release a memoir, "The Threads that Bind" (2019) will be, too. Dumoulin's 9th book, "Balanced on a Moment," was released in 2020. Colonel Dumoulin earned a B.A. in Graphic Art at Florida State and a B.S. in Advertising at the University of Florida. Awarded a Masters in Public Communications from Boston University, he also holds a post-Masters certificate in National Strategy from the Air Force's Air University.