Nature Explorers Anguilla Wild Side Guide
A Practical Field Guide to Birding on Anguilla
by Jacqueline A. Cestero
About the Book
Anguilla boasts more than 20 easily accessible wetlands with a wide variety of flora and fauna. Its spectacular offshore cays host a number of geographically important seabird colonies. More than 130 species of birds live on the island for all or part of the year, including 5 of the Lesser Antilles Restricted Range Species, making this island an excellent bird watching destination throughout the year.

The Wild Side Guide is an easy to use reference to the most common bird species seen on Anguilla. Each species contains a full color photograph along with a brief description and their common location. It is the go to guide for any bird enthusiast!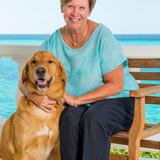 "Jackie" Cestero is an avid photographer and bird watcher. She first came to Anguilla in 1984 and fell in love with the quiet beauty of the island. Anguilla became her full time home in 1998. Jackie was a volunteer for The Anguilla National Trust Monthly Bird Monitoring Program from 2007 to 2012. She served as Project Manager for the Dog Island Restoration Project from 2011 to 2012. In 2010 she founded Nature Explorers Anguilla, the first ecotourism company on Anguilla providing birdwatching tours to the islands wetlands and offshore cays. She brings her passion for the island and its natural beauty to every excursion. Jackie is the author of a number of books about the island's wildlife and is a regular contributor to publications that highlight the natural and cultural aspects of Anguilla.