About the Book
David Halpern has been exploring the badlands of New Mexico since 1997. This book contains 84 of his black and white photographs from the Bisti/De-Na-Zin Wilderness, Kasha-Katuwe Tent Rocks, Lybrook Badlands, Plaza Blanca (The White Place), The Black Place, and other San Juan Basin sites. Also included is a foreword by Spencer G. Lucas, PhD, chief scientist at the New Mexico Museum of Natural History and Science in Albuquerque, NM. Available in both hard cover and paperback editions.
Features & Details
Primary Category: Arts & Photography Books
Project Option: 8×10 in, 20×25 cm
# of Pages: 96
Isbn

Hardcover, ImageWrap: 9780978816582

Publish Date: Sep 07, 2016
Language English
Keywords

Photography

,

nature

,

badlands

,

New Mexico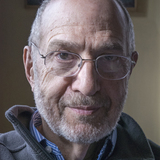 B. Nashville TN, 1936. B.A. Vanderbilt University, 1958. From 1958 to 1972 pursued a career in advertising, marketing and public relations. In 1973, I began to work as a free-lance writer and photographer and in 1974 was given my first one-man show. One man exhibits since 1974 include at least one per year at venues across the nation. Frequent workshop instructor. Images included in several collections, including those of the Gilcrease Museum (Tulsa), Philbrook Museum of Art (Tulsa), The International Photography Hall of Fame and Museum (St. Louis), and the National Park Service. Served 13 times as a National Park Service Artist-in-Residence since 1984 . From 1992-1998, "By a Clearer Light," my solo exhibition commemorating the 75th anniversary of the National Park Service traveled to 40 locations throughout the US. Principal book credits includeTulsa Art Deco (1980 and 2001), Pilgrim Eye (2007), See website for complete bio.