Through the Lens of an American Woman Alone in Cuba:
The Week Before Obama's Historic Visit
by Lisa Konczal
About the Book
Through the Lens of an American Woman Alone in Cuba is a book of unique perspective, at a poignant time in history - a photojournalistic essay shot the week before President Barack Obama's unprecedented first step in Cuba.

Contrasting images show both the beautiful and stereotypical iconic visuals one imagines, paired with more prevalent, raw and authentic photography that tells strong stories.

Lisa Konczal's perspective as one of few Americans in Cuba, and rarity of being an American woman traveling there alone (oftentimes far from other tourists), is a particularly unique one and no doubt impacted the composition and messages ascertained in her photographs.

A thought-provoking and informative collection of images touching on a variety of topics, and ultimately promoting human connection.
Features & Details
Primary Category: Arts & Photography Books
Project Option: Small Square, 7×7 in, 18×18 cm
# of Pages: 84
Publish Date: Oct 18, 2016
Language English
Keywords

Caribbean

,

photography

,

Cuba

,

travel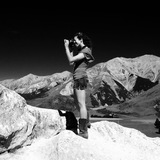 Lisa Konczal was trained at Duke University's Center for Documentary Studies, following a degree in Communications from North Carolina State University and art/film/history courses at the Université Catholique de Lille in France. Lisa has been a professional photographer for over ten years. After working with Oscar and Emmy winning documentary filmmakers in the San Francisco Bay area, she relocated to Los Angeles where she now lives. Lisa's inclination to capture undirected moments has led to working with Grammy winning musicians, dancers, behind-the-scenes on internationally distributed films, and shooting intriguing subjects of a social and cultural nature. Lisa Konczal's writing and photography can be seen in various publications across the country. A passionate storyteller, Lisa uses the mediums of still photography, video and prose to connect with people, also aiming to connect them with one another and support positive cross-cultural interaction.