I Dream of Galveston
2nd Edition
by Heidi Straube
About the Book
For true beach lovers, the magic of the ocean never ends.

In this little memory book set seaside in Galveston, Texas, Heidi Straube has captured the peacefulness, fragile beauty, and silent gracefulness of children and adults at the beach. The stillness of her photos, many shot in the fog, remind us of the quiet places we can go to within, no matter what our outer circumstances.

Galveston and its beaches were severely damaged during Hurricane Ike in September of 2008. With images created before this time, Ms. Straube has captured a beauty and innocence that has always been an essence of this seaside town, and provides inspiration and hope for the future.

Feel the peacefulness and sigh.

Bring the memories and magic to yourself in this love poem to Galveston past and to beach lovers everywhere.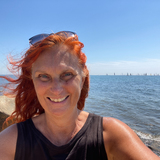 Heidi Straube, M.Ed.,LPC is a photographer, life muse, and contemplative psychotherapist. Integrating twenty years experience in meditative practices, including Zen and yogic traditions, with as many years as a career/life direction counselor and psychotherapist, she expresses her vision of the world and helps people to make life changes and transitions by honoring the deeper, spiritual self. "The Inner Path of Photography" and "You are the Artist of your Life," are examples of classes and personal retreats that Heidi leads, using photography as a tool for self-discovery and change. She works with teens, children, and adults in finding the inner knowing & connection that photography brings, as well as encouraging unique self-expression. Heidi exhibited in the international photography expositions, Recontres International de la Photographie 2001, Aix-en-Provence, France; and FotoFest 2000, Houston. A special love is natural light portraiture.