Puck's song
an encounter with Rudyard Kipling
by Mike Chisholm
About the Book
While working on a previous sequence and book "England and Nowhere" I felt an affinity with Kipling's view of English history as a layered, continuing story, as related in his children's books "Puck of Pook's Hill" and "Rewards and Fairies". In particular, I felt the poem "Puck's Song" expressed this view well, and started this series of constructed images to illustrate each of the twelve stanzas.

In the process of making these illustrations, I was reminded of a favourite moment at the end of "A Midsummer Night's Dream", when Puck is sent on stage to sweep the room ("I am sent with broom before / To sweep the dust behind the door"), and his broom became a key element in the iconography I have used.
Features & Details
Primary Category: Arts & Photography Books
Project Option: Large Square, 12×12 in, 30×30 cm
# of Pages: 36
Publish Date: Oct 02, 2018
Language English
Keywords

kipling

,

puck

,

pook's hill

,

illustration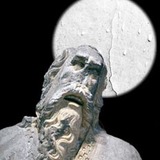 Mike Chisholm is an independent artist-photographer, based in Southampton, UK. Mike was born and raised in Stevenage, a New Town 30 miles north of London. He was educated at local state schools, then studied at Balliol College Oxford, the University of East Anglia, and University College London. For thirty years he worked as a librarian in the higher education sector (Bristol and Southampton universities) but now concentrates on photographic and writing projects. In recent years he has exhibited his photographs and bookworks internationally in several one-man and group shows. His blog, IDIOTIC HAT, is widely read and regarded by many as a must-read source of photographic inspiration, ironic wisdom and amusement.