The Sum of Its Parts
Ebook
by Tiffany Gholar
This is the price your customers see.
Other versions of this book
About the Ebook
Had I painted myself into a corner? I had sacrificed everything for my art career, but when would it ever pay off? I invested my Jeopardy! winnings into my biggest and most ambitious solo show yet, but that show, like so many other things, didn't yield the results I hoped for. Was I right to believe that my "big break" was just around the corner or was I lying to myself? Where would I find the patience to keep on going despite numerous rejections? What was the use of making art when it seemed like nothing mattered and no one cared? Not everything can be salvaged, but I pieced together what I could to try to create some semblance of imperfect beauty. This is the chronicle of an art career that, during a time of great despair, disappointment, and discontent, did not flourish but did not die.
Primary Category: Arts & Photography Books
Version Fixed-layout ebook, 54 pgs
Publish Date: May 23, 2019
Last Edit May 31, 2019
Language English
Keywords

painting

,

memoir

,

art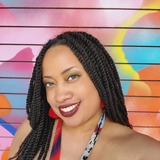 I am a Chicago based artist working in a variety of media. I have three primary bodies of work: The Doll Project, Post-Consumerism, and Recessionism. I studied art as an undergraduate at the University of Chicago and interior design at Harrington College of Design and hold a Masters Degree in Painting from Governors State University. My art has been exhibited in several Chicago area venues, including a solo exhibition at Three Peas Art Lounge and the Second Floor Gallery of the Fine Arts Building. When I am not painting, I work as a freelance interior designer and receptionist. To see more of my work and purchase it online, please visit www.TiffanyGholar.com