The Doll Project
Ebook
by Tiffany Gholar
This is the price your customers see.
About the Ebook
Is Barbie to blame for giving girls body image issues, or are there larger forces at work? The Doll Project explores the influence of visual culture and societal norms while caricaturing and satirizing unattainable standards of beauty. In a world where girls gather online to remind each other that "nothing tastes as good as thin feels" and diet ads ask "what will you gain when you lose," even Barbie is never thin enough. The Doll Project dramatizes this quest for perfection in miniature. Each picture tells a story from my perspective as an ambivalent doll collector who has a love/hate relationship with the fashion industry.



The photographs in this series show how both the iconic fashion doll and the fashion world around her have changed in the decades since her introduction, and culminate in a dynamic poster designed to remind women and girls to love and accept themselves no matter what they look like.
Primary Category: Arts & Photography Books
Version Fixed-layout ebook, 58 pgs
Publish Date: Mar 23, 2014
Last Edit Sep 19, 2015
Language English
Keywords

Barbie

,

dolls

,

fashion

,

dolls

,

eating

,

disorders

,

anorexia

,

bulimia

,

body

,

image

,

binge

,

eating

,

disorder

,

feminism

,

womens

,

studies

,

art

,

photography

,

The

,

Doll

,

Project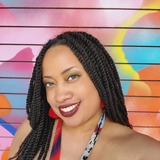 I am a Chicago based artist working in a variety of media. I have three primary bodies of work: The Doll Project, Post-Consumerism, and Recessionism. I studied art as an undergraduate at the University of Chicago and interior design at Harrington College of Design and hold a Masters Degree in Painting from Governors State University. My art has been exhibited in several Chicago area venues, including a solo exhibition at Three Peas Art Lounge and the Second Floor Gallery of the Fine Arts Building. When I am not painting, I work as a freelance interior designer and receptionist. To see more of my work and purchase it online, please visit www.TiffanyGholar.com