The Art of Paul Jeffrey Davids - Mexico
Ebook
by Paul Jeffrey Davids
This is the price your customers see.
About the Ebook
Paul Jeffrey Davids' oil paintings of Mexico truly capture the culture, spirit and ambiance of a nation bathed in the tropics and steeped in an ancient native culture and Spanish influence. Intense color, plus a style he calls Extreme Impressionism, and inspiration from adobe bell towers, thatched huts and romantic Latin moonlit nights give these works passion and show affection for the nation that borders his southern California. This artist's romance with Mexico began with his honeymoon, and then came trips to visit film director / actor John Huston in Puerto Vallarta when Davids worked for Huston's agent, Paul Kohner. Davids went on to become a Hollywood writer / producer / director in his own right, famous for his many "Star Wars" books for Lucasfilm and his contribution to launching the original "Transformers" animated TV shows, as production coordinator (79 shows) and writer. NBC Universal released many of his independent films to TV and DVD, including one about van Gogh that is sold at the Museum of Modern Art's Gift Store ("Starry Night"). He even made a film about a grandmother's pilgrimage to Mexico City to pay respects to Our Lady of Guadalupe ("Before We Say Goodbye") which played on Telemundo and throughout Latin America on TV. This is the first time this treasure of paintings of Mexico, along with some personal photos and his portrait of John Huston, has been available to the public.
Primary Category: Arts & Photography Books
Version Fixed-layout ebook, 54 pgs
Publish Date: Sep 21, 2014
Last Edit Sep 21, 2014
Language English
Keywords

Puerto Vallarta

,

John Huston

,

Star Wars

,

Guadalupe

,

Transformers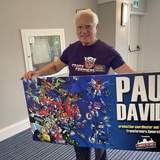 I am an award-winning Hollywood producer / writer / director and book author as well as artist of hundreds of oil paintings. I am best known as co-author of six of the "Star Wars" sequel books for Lucasfilm and as Marvel's Production Coordinator of all of the original "Transformers" animated TV episodes (as well as a writer of some of them). I have produced and/or directed about a dozen feature films, many of which were distributed worldwide to TV by NBCUniversal or Showtime (Viacom). I'm a graduate of Princeton University and the American Film Institute Center for Advanced Film Studies. Blurb offers 7 of my art books as well as my memoir of growing up in Garrett Park, Maryland as an amateur 8mm filmmaker who became known nationally while still a young teenager: Growing Up Sci-Fi in Garrett Park.